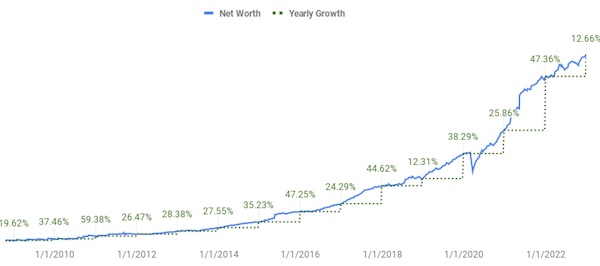 Net worth grows 12.66% this year. This is the second lowest growth rate since 2018 where it grew at 12.31%.
I work harder this year even though the return is lower. This is fine as the outcome rarely correlates perfectly to the effort we put in. The world is more random than we thought.
I gained new investment insight this year which is that ensuring portfolio longevity is more important than getting high return in any particular year since most of the gains in the market are driven by tail events that are unpredictable. We will benefit from these events eventually if we survive long enough in the market regardless of our investment skill.
In other words, large margin of safety eliminates the need of investment edge.
In investment world, as well as in life, behaving well is very rewarding as it increases our chance of survival. It is especially critical during crisis. When we survive longer, we are automatically exposed to the unlimited upsides from the market. We become the inevitable beneficiaries of whatever the market produces in the future.
There is no need to chase returns.
We think linearly and the world does not work in a linear fashion. By the time we see good returns from other people investing in certain assets, it is too late. Also we will not be able to recognise that particular investment as a good investment in the first place. It is just an illusion caused by our own bias and incompatibility between linear thinking and non-linear reality.
The more I think about it, the more I realise that impatience is greed in disguise: the urge to want everything and to want them now. And we are greedy by nature. Impatience causes us to misbehave. We can't have everything from economic perspective and not to mention everything at once. Knowing this fact is a huge investment edge.
Good behaviour is knowing what is good and is actually doing it.
Be patience is a timeless investment principle. When we are doing something that is timeless, it is as if we are already living in the future. We bring the future forward since there is no difference between now and the future when the time is not a factor. Speed is pointless in a timeless world. Chasing returns is pointless and exposes us to risk of ruin.
In a nutshell, slow is faster. It is more enjoyable too as I have plenty of time and peace of mind. Peace of mind is priceless in a noisy world.
Contrarian is by default unpopular and misunderstood by the majority. Sometimes it even looks dumb. Contrarians are those who choose the road less traveled which makes all the differences in investing and in life.